Semester – I
Agri Business Management
Agriculture

 

Economics 

Agriculture Export: Part I

Costing & Financial Management 

Dairy Business Management
English Foundation / Communication Skills
Food Processing
Information Technology: Skills & Concepts
Rural Marketing
Semester – II
Agriculture Entrepreneurship
Agriculture Export – Part II
Business Communication
Dairy Technology
E – Commerce Operations Team Lead  / IDM
Food Technology
HRM & OB
Production & Operations Management
Sales & Distribution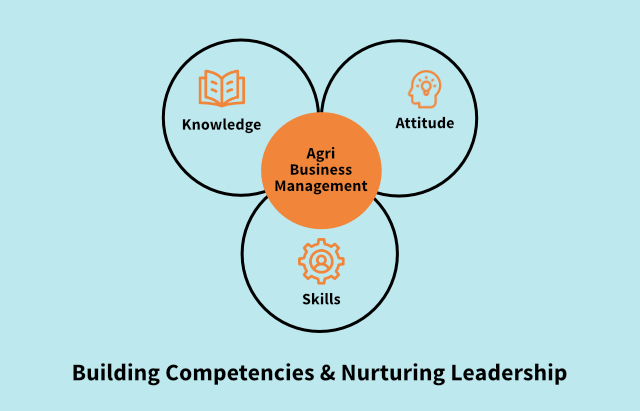 Orientation
Basic orientation and awareness of the market and consumers. The interface of practitioners/bureaucrats/business leaders.
Understanding & Knowledge
Exposure to select topics and subjects through workshops, live data /market interface to develop critical thinking, assimilate knowledge and interpretation through a structure of lab methodology initiating issues, problem syndication, prioritisation and creating feasible solutions
Application
Work Integrated Training Programme is where students learn the skills by engaging in on-the-job training at the company.
PG Program in Agri Business Management