Proposal to establish 79 farmers' producing companies in six districts in Maharashtra
Mumbai : The ambitious Maharashtra agriculture skill development program is encouraging the farmers to shift towards the group farming and helping them change their thoughts and refrain from un-organized and single farming. The farmers from six districts, who are benefited by the training program in first phase, had resolved to establish 79 farmers' production companies.
For making the farming sustainable and affordable carrying it individually is now not going to yield fruits but if they work together on various problems like weather, market, labor, they can head towards 'Better farming' and this view is now being prevalent and disseminating in village surroundings with greater speed.
Nowadays a special agricultural project has been started under the Prime Minister skill development scheme of the union government (PMKVY 2.0). For this, the state level skill development and Entrepreneurship department has appointed Maharashtra state skill development society as a nodal agency for planning, coordination, execution and monitoring of skill development initiatives. A scheme is implemented in the state under the name of Chhatrapati Rajaram Maharaj entrepreneurship and Skill Development Mission.
The seeds for encouraging the group farming in Maharashtra were sowed someone and half decade before but in last three months, the Maharashtra agriculture skill development program has helped a lot in propagating and disseminating the concept of group farming. This has attracted huge number of farmers in the state towards group farming. The training program for group farming is important for the farmers of the state. The Prime Minister Skill Development Scheme 2.0 and Chhatrapati Rajaram Maharaj Entrepreneurship and skill development Mission is encouraging farmers for group farming.
Through Maharashtra state skill development society, Simosis learning LLP and Palladium Consulting India Private Limited the three day training program in the entire state is implemented in thousands of revenue circles and the weekly meeting is being implemented. The state government is taking all out efforts to see that group farming promoters are prepared in all the villages so that successful farmers producing companies will flourish in the state. For this the government is engage in convincing the farmers to see that if sustainable and affordable farming is needed, it is necessary to come together, unite and start group farming. This appeal has received good response from the farmers and young farmers and women in addition to progressive farmers are uniting under the banner of 'Group farming'.
The farmers during the training are imparted knowledge about local crops, technical information, information about the situation of market and this has raised their confidence. This venture was started on 18 December, 2018 in Nagpur, Wardha and Chandrapur district in Vidarbha and Latur Beed and Nanded district in Marathwada region. Untill 16 February 2019, Such training was imparted to farmers in 202 revenue circles. 37 thousand 184 farmers participated in this three day training program. After the weekly meetings, the examinations of farmers started from 6th February 2019. Till date, more than 1342 farmers have given the examinations.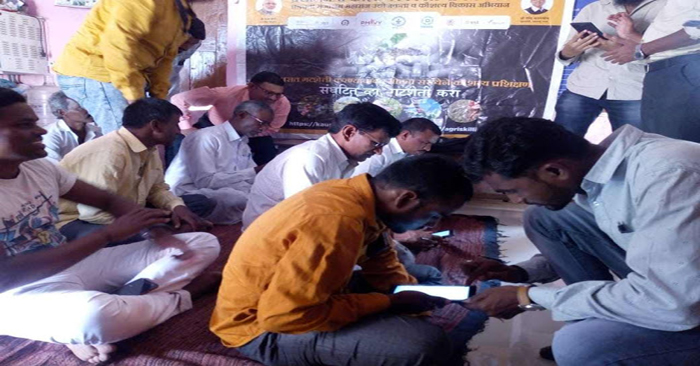 First exam as a farmer that too using tab
The salient feature of this training program is that it was the first time that examinations of the farmers were conducted. Maximum of the farmers have handled the tab for the first time in their life. At the beginning they were a little bit scared, but when they saw that question paper is available easily on the tab and they are also having multiple choice questions, they were glad. Many farmers expressed their views by saying that this was the first time when they gave the examination and that to in a digital way.
Initiation for starting farmers producing company
Many farmers have taken initiation from this training for establishing farmers' producing companies in their respective regions. These farmers had lengthy discussion during the weekly meeting program and they said that they will be discussing together to finally take a decision related to the name of the company, which crop they have to work on? and which business to start with?. They said that after deliberations, they will take the final decisions. Till date, 79 proposals for starting farmers producing companies were taken. These included 36 proposals from Latur district besides 12 from Nanded, 10 from Wardha, 9 from Nagpur, 8 from Beed and 4 from Chandrapur district.
1602 farmers registered their name for the three day training programs that were conducted on 18 December and on 3rd January respectively. After this, 1342 farmers participated in the examinations held between 6 to 12th February 2019.
The following table shows district wise registration of farmers and the number of farmers who appeared for the examinations:-
Farmers who appeared for examination
Nagpur
Chandrapur
Wardha
Latur
Beed
Nanded
Total
Eight districts in next phase
In the coming 16 months the project will be implemented in 34 district step by step.
Two lakh 82 thousand farmers were given three day free training in the 1873 revenue circles of the state.
In the first phase Nagpur, Wardha, Chandrapur from Vidarbha region, whereas Latur, Beed and Nanded from Marathwada region were included.
The second phase will be starting from April in eight districts of the state. This will include Sindhudurg, Ratnagiri, Raigad, Thane and Palghar from Konkan region and Kolhapur, Sangli, Satara from West Maharashtra.
Program implemented in this way
*Training is conducted at the headquarters of the revenue circles or the villages where all the facilities for the training are available. In these three days, the importance of group farming, production management of any one crop of that region, evaluation of Agricultural produce, avenues in supply chain, importance of market planning, establishment of farmers producing companies and the introduction of group farming scheme is being explained to the participants.
* After the three days training program, a weekly joint program is being implemented. The discussions of how farmers group should be established? how to make preparations for such establishments? are also chalked out.
*After the completion of the training, the Agriculture skill Council of India (AFCI) conducts the tests of the farmers. Those farmers who score minimum 70 percent of the marks are selected as group farming promoter and given a certificate as a promoter.
Benefits to the farmers
*The farmers who pass the examination will be getting 500 rupees return from the government
*Those having the certificate will be given the benefit of all the government schemes with priority.
*This certificate owner will also get priority in benefits related to Annasaheb Patil Arthik Magas Vikas Mahamandal scheme. He/She will also get priority in benefits of agriculture related schemes for starting some industries based on farming.
*He.She will also get free accidental insurance of rupess two lakhs for two years.
Feedback of the farmers :-
"In this day training program, I got the knowledge about how to make progress in orange farming and also that what I should be doing for group farming. I also learnt how to take benefit of more crops. Such training programs should be conducted frequently. I also like the way training was imparted"
– Mahendra Asole, Nagpur
"I got the guidance about group farming in this three day training program and now I am damn sure that the group farming is 100 percent beneficial"
– Ishwar Bhongade, Nagpur
"This was the first time I got the training. I got good knowledge and that two of different facets. They explained me how the group farming is carried out?.even they trained me how to get good market for my agricultural produce? and where to sell it. We were 5260 women in this training camp. Coming together seems to be a little bit difficult, but now we are totally prepared to come together for sustainable farming."
-Vandana Honrao, Fulwal, Taluka Kandhar, district Nanded.
"I am grateful to the government for giving us such training. They have helped us recognized the skills within yourself. Now we will be using that to solve our problems."
-Ajay Chandankhede Gaul, District Wardha
"After the crop is harvested, it is very difficult time for the farmers as they are in search of market where they will get good return for the product. In such a time, they are cheated. For averting and avoiding such instances, we should be knowing about marketing process, market survey and other such things. I got this from the three day training program. Now we are going to change the farming pattern".
-Nirmala Nat, Bolaghat, district Chandrapur
"I have experimented in farming in many ways but did not got success so I was depressed. I also took training at one place, but I could not understand the language but this three days training program under the skill development Mission has helped me a lot. Now all my problems are overcome. I got this training in our own region. I am satisfied by the training."
-Mahindra Raut, Rohana, district Wardha.
"I got the entire information about group farming. The trainers were good. We liked their thoughts. We like minded farmers will be coming on a single platform and positively thinking for the group farming. Those who are ready will be included in our group. Till date, we were carrying on farming for own self but now we will be doing it with the help of each other and with mutual cooperation. This will help a lot in overcoming the problems of one and all. I am confident about it."
-Meghanath Mashakhetri, Gangalwadi, Taluka Brahmapuri, district Chandrapur.
"We got the direction for carrying on group farming through this training. Instead of doing individual farming, group farming is more beneficial and I learnt it during the training. I also learnt that mutual cooperation is more beneficial. We were 15 women who participated in this training and now we have decided to go for group farming. We are going to march ahead in various phases. This was the first time when we gave examination as a farmer. I was not at all afraid of this examination."
-Anita Barshi, Taluka Mool, district Chandrapur.