"Speed, Scale, and Impact": Skills Development Program Enters the Asia Book of Records
A Palladium-managed program in India's Maharashtra State has qualified for the Asia Book of Records and the India Book of Records for the number of farmers assessed by a skills development program in a single day.
The Maharashtra Skills Development Program (MSDP) set the record on 15 July 2019, far exceeding the target of 1,800 by assessing 3,000 farmers.
Farming in Maharashtra State
Maharashtra State's economy is agriculture-based, but farming is no longer a reliable source of income for many smallholders. They lack the information and access to agricultural inputs that they need to make farming viable. This is especially true as the farmers try to eke out a living on small family plots that have been subdivided through generations while having to adapt to the impacts of climate change.
To support smallholders and agricultural production, the Government of Maharashtra has been promoting group farming, where smallholder farmers share resources so that they can have better access to agricultural inputs and tools, ultimately leading to greater productivity and higher incomes.
Supporting Smallholders
Barbora Stankovicova, a director at Palladium in India, says, "We are successfully instilling the behaviours and beliefs of the small landholders to change their status-quo, and all this effort is happening at an unprecedented scale that is much needed for holistic, state-wide transformation."
MSDP has been training farmers on group farming and connecting them with government schemes that support smallholders.
The program has three components:
Mass skilling to achieve behavioural change from individual farming to group farming

Business advisory services to nurture farmer producer organisations and provide value chain support

Skilling for employability to youth farmers to drive these farmer producer organisations.
"We are focused on speed, scale, and impact to achieve this agricultural transformation in Maharashtra," explains Bobby Nimbalkar, Executive Vice President at Palladium's joint venture partner AP Globale.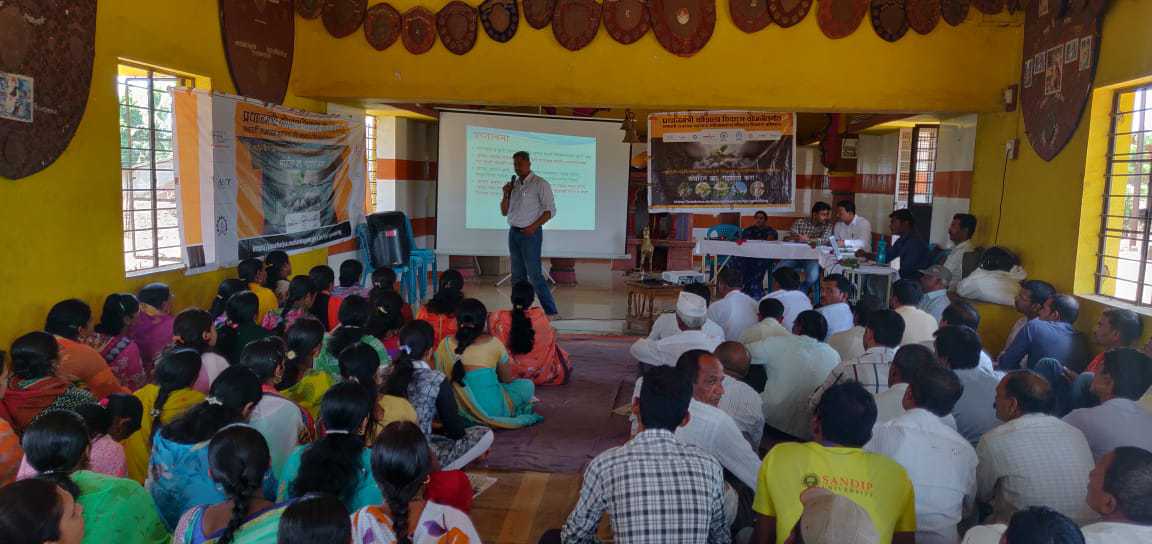 Assessment and Certification: Breaking a Record
After identifying farmers for participation and providing them with orientation and training in the field, MSDP assesses them through a written, oral, and practical exam. Those who pass are certified in group farming methods, which is the assessment that was recorded on 15 July.
15 July is the 4th anniversary of the Government of India's launch of the National Skill Development Mission – a national government aim "to consolidate and coordinate skilling efforts" across sectors and states, and to "expedite decision making across sectors to achieve skilling at scale with speed and standards." The record-breaking attempt is a way to mark this anniversary.
The farmers were assessed at 19 locations across four districts of Maharashtra State. All assessment centres were monitored by the Asia Book of Records and the India Book of Records.

Since its start in 2018, MSDP has trained more than 100,000 farmers Nearly 70,000 of these have received their group farming certification. By its completion in 2020, MSDP plans to train 300,000 farmers. The program is a pilot for agricultural skills training at scale, dwarfing all other similar programs in Maharashtra that came before.
MSDP is funded by the Government of India under the National Skills Development Corporation's (NSDC) Pradhan Mantri Kaushal Vikas Yojna. MSDP's training is implemented by four organisations – the Agriculture Skill Council of India (ASCI), the Maharashtra State Skill Development Society (MSSDS), the Maharashtra State Council of Vocational Training (MSCVT), SIMACES Learning LLP, and Palladium.
This record attempt is jointly organised by the ASCI, the MSSDS, the MSCVT and SIMACES Learning LLP, and Palladium.